Shopping Cart
Your Cart is Empty
There was an error with PayPal
Click here to try again
Thank you for your business!
You should be receiving an order confirmation from Paypal shortly.
Exit Shopping Cart
"Specializing in STOPPING leaks"
Serving the Greater Kansas City Area
YOUR COMPLETE ROOF REPAIR SERVICE!
Blog with Roof Doctor, Inc.
Winter Woes: Flashing and Ice Cycles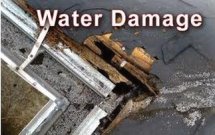 Flashing is a piece of sheet metal applied over joints in the roof to prevent water damage. Flashing is commonly comprised of aluminum or galvanized steel. Flashing locations can vary by roof, but common locations are around the chimney, skylights, roof wall protrusions or dormer windows. If water is able to penetrate the flashing in any manner, it can disintegrate due to weathering or oxidation and further allowing water to seep through the valleys in your roof.



Protect Your Home:
Roof Doctor recommends having a professional inspect your roof flashing on a bi-annual basis. If flashing is found missing, or deteriorating, the flashing should be replaced as soon as possible. Fixing flashing is much more affordable than waiting until it's too late and having to pay for the damage the water has caused. 
Because we have many winter days where temperatures hover around freezing or below freezing, icicles are also a common roofing problem in the midwest region. The sun melts the snow on the hot roof, causing it to drip over the eaves, where it then becomes cold enough to freeze into beautiful, but dangerous, icicles. 



Icicles are hazardous in two ways—first, they can break and fall onto people, pets, and cars. Second, their heavy weight can cause major gutter and roofing damage. You can prevent gutter damage by cleaning your gutters in the fall, so that a build-up of heavy, frozen leaves do not cause your gutters to tear off. Roof Doctor, Inc. offers affordable gutter cleaning plans to keep your gutters free of debris. Another way to prevent icicles is by sweeping snow off your roof and out of your gutters and downspouts after snowstorms.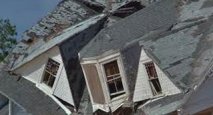 It is very dangerous to go up on the roof during the winter, so call the professionals at Roof Doctor, Inc. to do it for you. If you have recurring problems with icicles, an expert roofer at Roof Doctor, Inc. will be happy to evaluate your house and find a solution. We can repair broken or torn gutters and install gutter covers to prevent future problems.  Call Steve today to schedule your peace of mind and protect your investment!
Whatever your roof concern is, we can help you!
For almost 30 years, Roof Doctor, Inc. has been taking tons of calls in the dead of winter which are related to the four issues below.  Many times weather conditions have to subside before the repair can actually take place and damage can double, triple, or worse.  For these issues, and all other roof concerns, call us for QUALITY repairs and workmanship.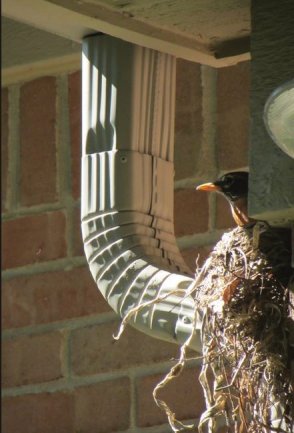 1.       Gutters & downspouts should be cleared free of debris so they are able  to maintain a contstant drain when there is rain, sleet, and snow.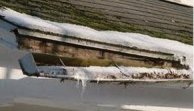 2.       Never let your gutters freeze solid with ice and debris.  This puts a tremendous amount of pressure on the gutter system and can pull it away from your house, damaging the gutters permanently.  The fascia and roof can be compromised if your gutters pull away and the house and ceiling juncture can be compromised, letter water leak in.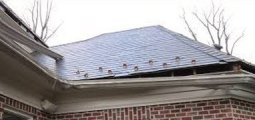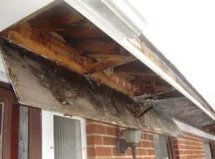 3.       Down spouts filled with debris that have also frozen can start thawing at the gutter juncture, causing rot to the fascia, rotting soffit, and leaks into your house.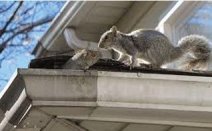 4.       You will want to have your roof thoroughly checked for open voids under eves and soffits.  Critters such as raccoons, opossums, squirrels, snakes and birds absolutely take advantage of these areas and many, many times make these attic entrances even larger to live in your attic ALL winter long where the warm environment is excellent shelter from the winter variables.  These entrances also become prime areas for rain, snow, and sleet to blow in and cause a leak on your interior home ceiling.  Have these areas properly blocked off with custom cut metal exterior patches.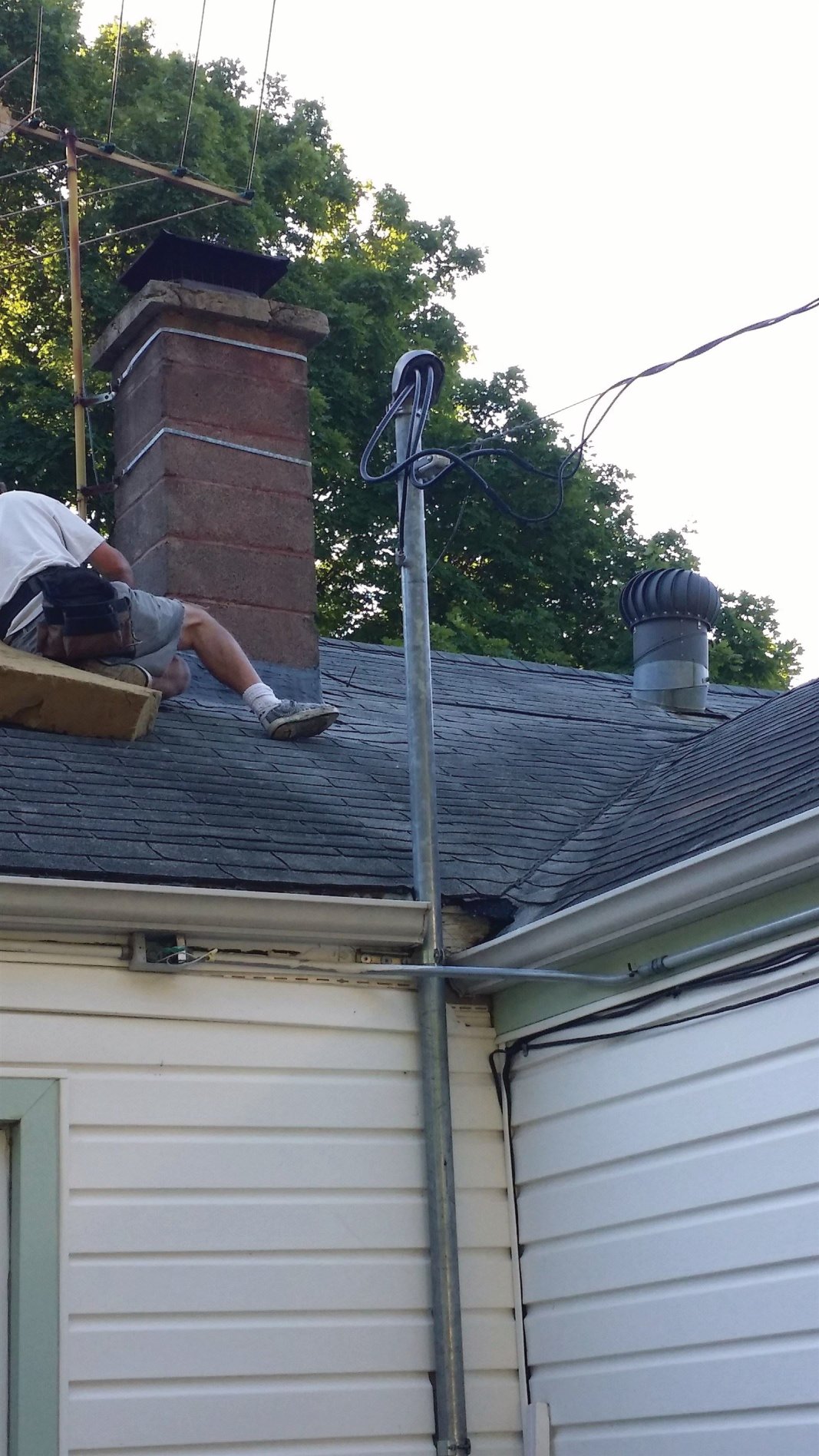 If you are a first time home buyer or a new home buyer, please take a moment to read this blog entry for some good advice to be aware of.  Anytime you are ready to purchase a home, there are very REAL circumstances regarding the roof condition and you may not always be informed of them before your property closing.  
If you are not sure and want the straight FACTS about each item over the exterior roof, call Roof Doctor, Inc. and we'll get right out to set your mind at ease with an extremely thorough inspection of all roof penetrations.  The honest concern of all conditions and installation of where your roof product meets the flue stacks, sewer pipes, vents, adjacent walls, skylights, and chimneys will be reviewed and reported to you so that before you close on your property you have the chance to negotiate any issues found with the seller.  
No matter what your roof concern or issue is, Roof Doctor, Inc. is there for you!  Visit my website today for a list of our many services, a photo gallery slide show of our workmanship, repair products and facts, our customer testimonials, Q & A tips, and to request an estimate.  Best of luck to you in your new home! Steve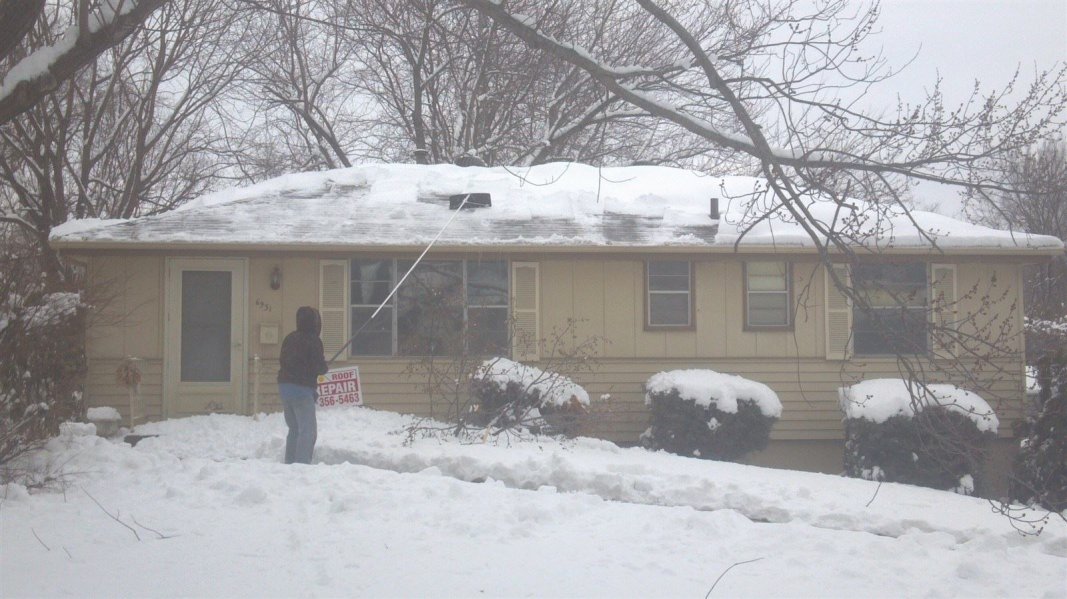 Well, another day to wake up at zero degrees!  Folks, my phone has been ringing off the hook due to the snow and ice build up on our roof tops.  This is a SERIOUS matter and should be handled by a professional with experience.  Not only is getting on your roof dangerous in these current condtions, but further damage can also be caused during improper snow and ice removal.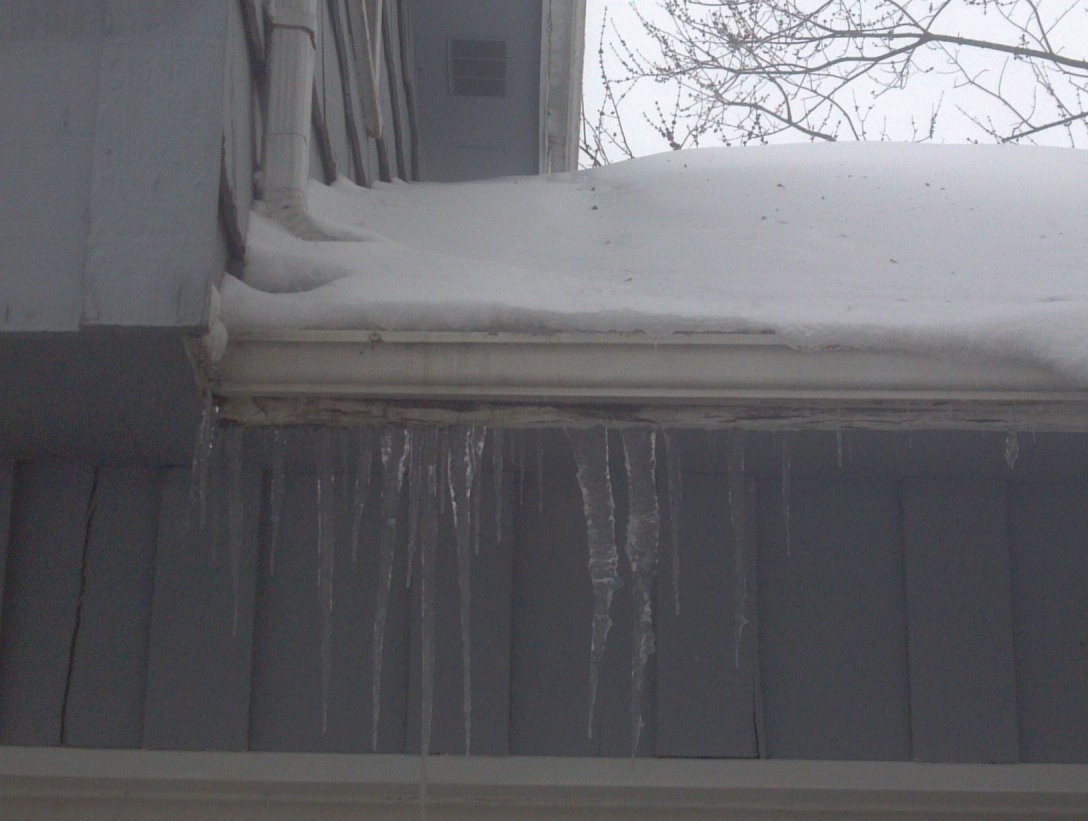 Interior leaks are showing up frequently now in the houses I am visiting with snow and ice issues.  There are some measures we can take to help your situation.  Visit my webpage at
http://www.leakyroofs.com/Ice-Dams---Roof-Snow-Removal.html
for education on snow and ice and the havoc they play on your roof and gutters.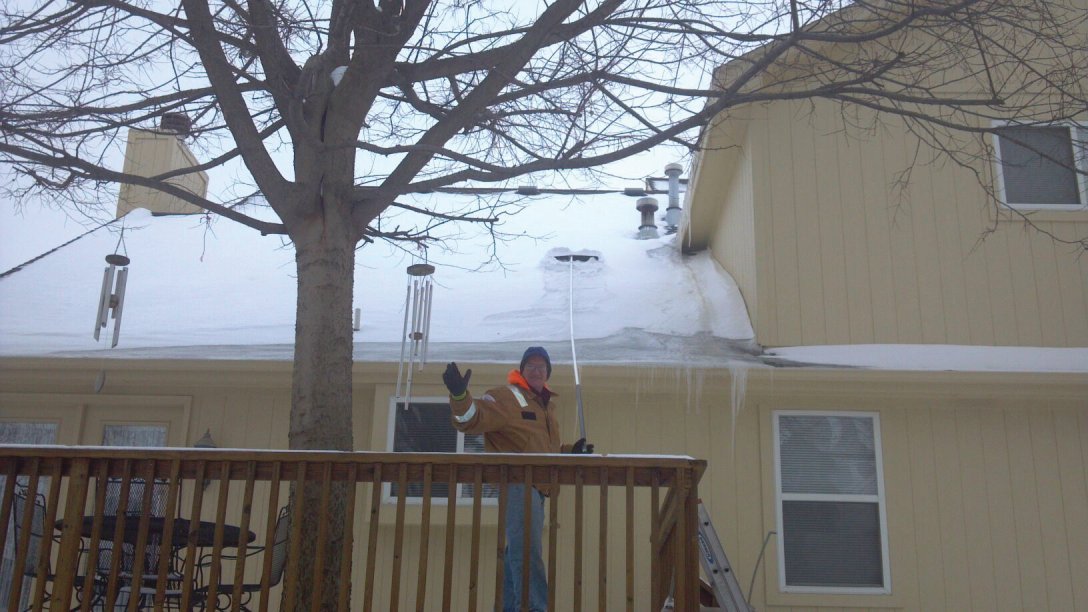 Picturesque snow-capped houses are charming, but don't be fooled by their delicate beauty. Snow has a great deal of weight, and that weight increases immensely when rain, ice and sleet are added to the mix. Two feet of snow on the average-sized roof can be the equivalent of 38,000 pounds, or 19 tons.  All of this weight puts stress on your roof and weakens its structure.  Complicating matters more, the melting of this mass can cause water seepage, which can rot roofs, destroy insulation, flood attics, ruin 
gutters
 and damage the interior of your home.
Call me today for a phone consult to discuss your situation. Roof Doctor, Inc. Steve Conrick, Owner 816-356-5463
Mother and baby raccoons

Once a litter of baby racoons are born, it can take up to 4 months for them to leave the nest, duirng which time they reak havic on your attic and draw many parasites, especially fleas.

Black Snakes inhabiting an attic

Snakes often drop from trees and enter your attic through open voids in your roof, as small as 3/4". Snakes see out shelter and follow prey which may be nesting in your attic.

Hornet nest in the roof of an attic

This nest has an opening from the roof top most likely under loose shingles or a hole caused from any number of concerns you may be faced with from an aging roof.

Opposum family nest in an attic

This mother opposum found its way into an attic & gave birth to her young in the insullation. During the period before the young leave the nest, there is ample time for feces deposits, drawing in worms, maggots, fleas and other parasites.

Plastic Sewer Vent Pipe Flashing

Compromised by a roof rat or squirrel, this void allows entry to a dry, warm, safe haven. Additionally, a major leak is now presented and damage is occuring further into the home interior.

Bats in the attic sleeping

A colony of bats has made its way into this attic and return to the same spot each day to rest, as bats are nocturnal. Bats and bat guano carry many diseases and produce a very foul smell.
Its that time of year for
rodents
to be on the move. With spring coming, nesting areas will be sought out, and your attic is a prime target for rodents to move in to and raise their young.
In our many years of experience, we have seen even the smallest entry areas become a gateway for rodents such as bats, roof rats, raccoons, squirrels, and opossums. Even bees, wasps, hornets, birds, snakes, and spiders will be looking for a dry, warm shelter from the spring rains.
The most effective way to take preventative measures against rodent infestation is to have your annual
roof inspection
completed. Measures which should be taken include checking all
roof protrusions
, such as vent pipes, chimneys, and furnace flues, for adequate seals.

A roof inspection should also include a thorough check under all soffits and eaves to ensure the areas remain in tact and show no signs of open voids. The bottom of roof ridges, siding, and also trim boards should be looked over as well for structural integrity.  The large
roof fields
should be inspected for any damage that may have been caused by
tree limbs or storms
.
For more in depth information on rodent proofing, rodent types, and rodent disease / parasites, simply visit our rodent proofing page using this link: 
http://www.leakyroofs.com/Rodent-Proofing.html
.  If you have a rodent concern, will will be here to assist you with the correct extraction service and work along side them to correct and close off the entry points to your home interior.
Spring Maintenance Checklist:
1. 
Look at the ceiling inside.
Any stains or spots could be evidence of water damage, indicating loose flashing (metal strips that seal connections) or shingle cracks or leaks. They can also be a sign of ice dams, which could mean a problem with insulation or poor home ventilation.
2.
Shingle/tile check.
Look for any missing shingles, and examine shingle condition for any that are peeling, cracking, or losing their grain. Asphalt shingles that are losing their grain are in danger of starting to crack and peel with exposure to sunlight. A few damaged shingles can be easily replaced, but many shingles in poor condition means a complete re-roofing is needed. Curling shingles could also be a sign of inadequate roof ventilation.
3, 
Clean the shingles.
If moss or algae is growing on or between the shingles, this needs to be removed. This can be done by spraying moss remover solution on the roof, then using a broom to remove the growth. Serious mold or rot needs to be addressed immediately by a professional, as the roof may need replacing.
4.
Shingle granule buildup
.
Excessive granules in gutters, downspouts and around the roof area are a sign that the shingles are worn and need replacing to prevent leakage.
5.
Chimney and skylight.
Check flashing connections between skylight, chimney and roof. Snow and wind can cause flashing to loosen and leak. Repair or replace any damaged flashing strips and seal cracks. Check the masonry joints of the chimney for damage or presence of efflorescence, a calcium deposit that could indicate water leaks.
6.
Roof bolts
. If you have a metal roof, check for any loose metal bolts and tighten them.
7.
Gutters and downspouts.
Examine the home siding for any evidence of water damage. Climb the ladder and use a trowel to scoop out debris, dirt and leaves out of the gutters. Tighten any spots where the gutter had come loose and flush any residue with the garden hose. Flush downspouts.
8.
Soffit and Fascia.
The vents in soffit and fascia are a favorite nesting place for small animals, who are drawn by the warm air. Come spring, these critters begin to reproduce, and if they find a way inside, you could be looking at serious damage inside your attic and home.
9.
Yard assessment.
Remove any dead tree limbs near the roof and trim overhanging branches.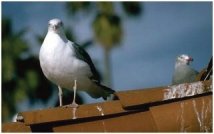 Bird droppings stain and corrode roofs and other building materials.  Pest birds cause tens of millions of dollars of damage every year to buildings, roofs,
ventilation systems
, and much more. Bird droppings and nesting materials which are allowed to accumulate pose a host of physical problems which can become very serious if they are not corrected immediately.  
Bird droppings
are very acidic in nature. They actually eat away at many substrates, especially tar-based roofing materials. Droppings which are allowed to accumulate on roofs will eat into the material and eventually cause
leaks
. The life expectancy of a roof can be cut in half by just a light, but continuous, application of bird droppings.  Birds will get under
eaves
and
soffits
to get out of the weather and will nest in these areas as well.  Have your roof
inspected
today!
/